"Consistent management system
from order acceptance to delivery
Our business ranges from planning, orders, to design process, production and shipping under an integrated system.
As a result, it is possible to continuously manufacture products reliably, which in turn can lead to cost reduction and a shorter period for production by a thorough process control.
The video below will explain these procedures.
"Worldwide committed technology
The precision sheet metal processing of the FUjita Works utilizes high technology. We introduce the newest metal processing equipment on a timely basis and update it to fulfill precisely our customer's requirements.
By repeating the cut-and-try method, we have accumulated the reliable know-how to develop and achieve unsurpassed precision metal processing techniques, such as thin-sheet TIG welding that are ideal for the semiconductor or liquid crystal manufacturing equipment. It lets us perform 100 μm ultra-thin stainless welding and stainless welding of a few hundred. Moreover, we have earned a share of the worldwide market for product processing using Nickel or Titanium for the plant market.
The Fujita Works was selected in 2006 by the Ministry of Economy, Trade and Industry as one of \"The introducing 300 of Japan's Exciting Monozukuri (Product Manufacturing) SEMs\". Fujita Works is committed and its technology is highly regarded, not only in Japan, but also throughout the workd.
"Leading edge processing technology that Fujita Works is proud of
"From mechanical processing to sheet metal processing [Processing of H7 accuracy]
Our business was mechanical processing traditionaly.
Our laser processing changed the concept.
This processing achives H7 accuracy in fit tolerance.
当社のレーザー加工は、考え方を変えるものです。
この加工は、嵌め合い交差がH7を実現しています。
"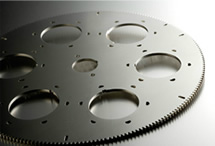 "Ultimate thin sheet metal welding [SUSt0.6mm]
No one has ever accomplished this before. We perform continuous uranami welding of 0.6mm thick sheet by TIG welding. The weld will not crach even after the drawing process.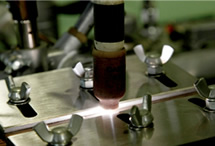 "Simultaneous metal welding of five heterogeneous layers
"We perform simultaneous welding of five layers of material, such as titanium, nickel, and steel by resistance welding.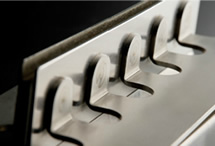 "Processing without deep drawing
In mass production, a mold is made and a product is processed. However, we reduce the design lead time and manufacture the product at a low cost. The product is achieved by bending structure.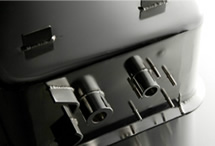 "Processing out of the facility specifications [processing in minimum size diameter]
We perform pipe processing with a value that is less than the minimum diameter of pipe processing described in the facility specifications. We process nickel material of Φ10mm.